Welcome to the Peters Group
News & Events
Aug. 18, 2019 -Ana's and Amir's research published
Congratulations to Ana and Amir for their newly published research! Ana's investigation of 2-halo-N-phenylacetamides at glass carbon cathodes in dimethylformamide is now available in Electroanalytical Chemistry. Amir's work regarding the electrosynthesis of benzisoxazole and some derivatives can be viewed in ChemElectroChem. See our publications tab for links!
Oct. 25, 2018 -Dr. Peters wins Old Crescent Award
Congratulations to Dr. Peters on his receiving the 2018 Old Crescent Award! The award celebrates individuals whose exceptional philanthropy creates a lasting impact, empowering students and faculty of today and tomorrow in equal measure.
Jul. 12, 2018 -Congrats Ana, Amir, and Eric
Congratulations to Ana, Amir, and Eric for receiving Associate Instructor Awards at this year's Chemistry Honors Banquet!
Apr. 02, 2018 -Congratulations Dr. Erin Martin
Erin successfully defended her dissertation "Environmental Remediation through Electrochemical Reduction-Oxidation" on March 28th.
Jun. 16, 2017 -Congratulations Seniors!
Three senior group members graduated this year after successful undergraduate careers! Brett Walker and Austin Goodson presented their G410 Senior Thesis research at the annual Honors Banquet, where they and Andrew Rejer were recognized for a number of awards. Austin accepted a position in industry, Brett will be attending medical school, and Andrew is moving on to pharmacy college. Congratulations to all!
View all news...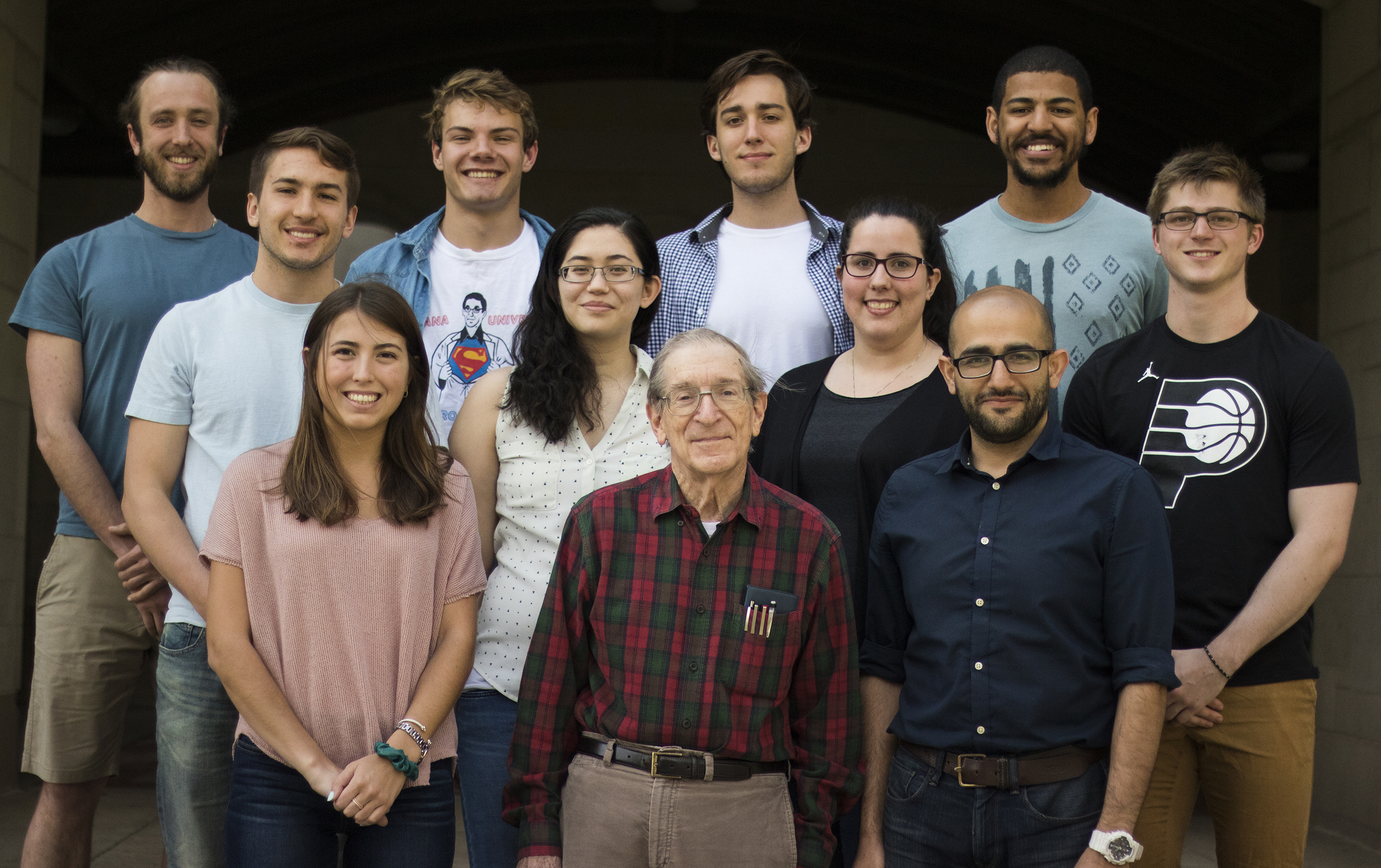 The Peters Group is a multidisciplinary, electrochemistry research group engaged in a variety of individual and collaborative efforts which can be classified into the broad areas of mechanistic organic, environmental, and biological electrochemistry.
Our research goals include
practical electrosynthesis
remediation of environmental pollutants
discovery of new transition-metal catalysts
development of new electrode systems such as polymer-coated electrodes, semiconductor electrodes, and modified platinum, palladium, and silver cathodes
development of new media for electrochemistry such as room-temperature ionic liquids
Due to the diversity of on-going projects in our laboratory, group members develop skills in a wide range of synthetic and analytical techniques. Included among these are methods of organic and inorganic synthesis; electroanalytical techniques such as cyclic voltammetry and controlled-potential electrolysis; and analytical techniques such as HPLC, UV-Vis, NMR, GC-MS, ESR, ESI-MS, and HPLC-MS. Additionally, we employ a variety of specialized instrumentation, cells, and electrodes to perform more sophisticated electrochemical experiments.